Fill Your Family's Plates with Cozy Fall Meals
Oct 06, 2023 11:26AM ● By Rich Martinson
Sponsored Content
Putting away the homework, turning off electronics and spending a little quality time together can help ease everyday stresses. Add a cozy meal packed with tastes you love and you'll have the perfect recipe for an autumn evening with your family.
Cooler days call for comforting flavors the entire family can enjoy at the dinner table like roasted veggies – from sweet potatoes to pumpkin and more – paired with hearty favorites like cheesy pierogies that provide a sense of warmth and coziness. Make this autumn one to remember by creating new meals and memories along the way.
For an extra special celebration with the ones you love in honor of the 15th anniversary of National Pierogy Day, consider a cozy, warming dish like Roasted Sweet Potatoes Brown Butter Pierogies, which is loaded with the flavors of the season. This comforting meal starts with cubed sweet potatoes – a hallmark of fall – along with pierogies tossed in a homemade brown butter sauce. Top with pecans for a nutty crunch and fresh thyme leaves for the final touch on a newfound favorite that'll bring loved ones running to the dinner table.
At the heart of the dish are Mrs. T's Pierogies, which are pasta pockets filled with stuff families love like creamy mashed potatoes, cheese and big, bold flavors. Found in the frozen food aisle, they're available in 13 flavors including 4 Cheese Medley, Loaded Baked Potato, Feta & Spinach and other varieties in full and mini sizes. Pierogies can be boiled, baked, air-fried, sauteed, fried or grilled to leave more time for family and less time in the kitchen.
Find more ways to incorporate fall flavors into your family's everyday menu by visiting MrsTsPierogies.com.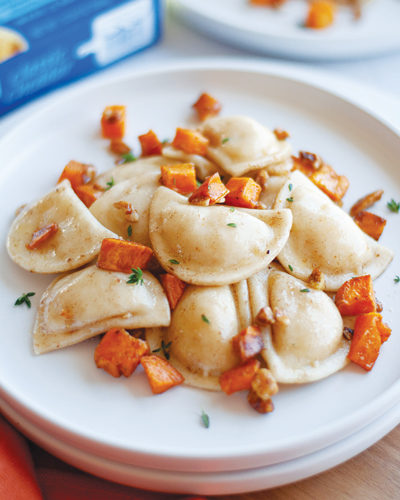 Roasted Sweet Potatoes Brown Butter Pierogies
Prep time: 10 minutes
Cook time: 30 minutes
Servings: 4-5
1 bag (1.6 pounds) Mrs. T's Mini Classic Cheddar Pierogies
2 cups sweet potato cubes (approximately 1 large or 2 medium sweet potatoes, cut into 1/2-inch cubes)
1 tablespoon olive oil
salt, to taste
pepper, to taste
4 tablespoons salted butter
1 tablespoon balsamic vinegar
2 tablespoons lemon juice
water
1/2 cup pecans
fresh thyme leaves, for serving
Preheat oven to 400 F.
Toss sweet potato cubes in olive oil, salt and pepper, to taste, and spread in even layer on baking sheet. Roast 25-30 minutes, tossing about halfway through, until potatoes are fork tender.
In medium skillet over medium heat, brown butter 5-10 minutes. Avoid smoking or burning. Remove from heat. Allow to cool about 5 minutes then whisk in balsamic vinegar and lemon juice.
In large saucepan, bring water to boil. Cook pierogies according to package directions, about 3 minutes. Drain and toss in brown butter sauce.
Add roasted sweet potatoes and pecans to brown butter pierogies and toss gently to coat.
Top with fresh thyme leaves.