Support Your Immune System in 5 Simple Ways
Oct 06, 2023 11:26AM ● By Rich Martinson
Sponsored Content
Support Your Immune System in 5 Simple Ways
Catching a cold or getting the flu can happen any time of year, but the height of cold and flu season requires extra precaution. Flu activity often increases in the fall and peaks between December and January, according to the Centers for Disease Control and Prevention.
Staying completely healthy throughout cold and flu season can't be guaranteed, but, along with following guidance from your health care provider, dietary and lifestyle changes can help optimize your immune system and well-being.
Eat Healthfully
Eating a healthy diet is essential for optimizing your immune system. Many experts recommend consuming whole foods and plant foods like fruits, vegetables, nuts, seeds and legumes as well as whole grains. These foods contain beneficial plant compounds linked to health benefits in humans. Consider one prime example, fresh grapes, and how they may support immune health.
At the most basic level, healthy cells are the foundation of good health. Natural grape compounds, including antioxidants and other polyphenols, help protect the health and function of the body's cells.
Studies suggest some grape compounds – resveratrol and certain flavonoids – may positively influence immune function.
Additional studies show adding heart-healthy grapes to your daily diet can help support brain, colon and skin health. Maintaining healthy bodily systems is essential to defending against illnesses.
Grapes are a good source of vitamin K, which may help support lung health.
An easy way to incorporate healthy foods into your diet is with simple recipes like this Immune-Boosting Green Grape Smoothie that contains additional nutritious ingredients that support immune health like spinach, walnuts and Greek yogurt.
Stay Hydrated
Drinking plenty of water is important for staying hydrated, which helps your immune system by keeping the body's defenses functioning properly. In addition to water, you can increase hydration by eating foods with high water content like Grapes from California, which contain about 82% water.
Exercise Regularly
Getting your blood pumping with a little exercise can help improve immune response and reduce inflammation, according to a scientific review from the "Journal of Sport and Health Science." Look toward aerobic activities like moderate-intensity walking, jogging and biking to increase the heart rate and encourage circulation of immune cells.
Practice Good Hygiene
You can protect yourself and others at the same time by taking preventive measures, like practicing good hygiene, to avoid spreading germs. At the most basic level, limit contact with others who are sick, cover your nose and mouth with a tissue while coughing or sneezing and wash your hands using soap and water.
Manage Stress
Stress can have a negative impact on many aspects of your health and wellness, including limiting your body's ability to fight off infection. You can lower stress by practicing deep breathing or meditation and developing good habits like eating right, exercising and getting enough sleep. For late night snacking urges, choose foods such as grapes that are a natural source of melatonin, a compound which helps regulate sleep cycles. Talking with someone you trust, whether it's a friend, family member or mental health professional, can help relieve stress as well.
Find more immunity-boosting recipes by visiting GrapesFromCalifornia.com.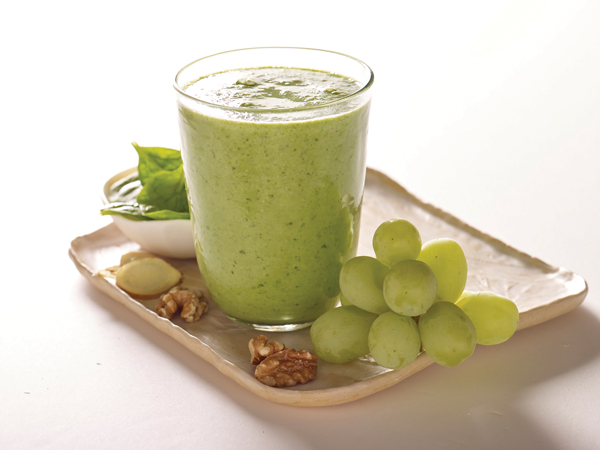 Immune-Boosting Green Grape Smoothie
Prep time: 5 minutes
Servings: 1
1 cup green Grapes from California, chilled
2 1/2 ounces baby spinach
1/3 cup plain low-fat Greek yogurt
1/4 cup fresh orange juice
1 cube (1/2 inch) peeled fresh ginger or 2 teaspoons prepared minced ginger
1 tablespoon walnut pieces
In blender, blend grapes, spinach, yogurt, orange juice, ginger and walnuts until smooth, scraping down sides as needed.
Nutritional information per serving:
280 calories; 12 g protein; 46 g carbohydrates; 7 g fat (23% calories from fat); 1.5 g saturated fat (5% calories from saturated fat); 10 mg cholesterol; 110 mg sodium; 4 g fiber.